Information for students
VET Student Loans assist eligible students enrolled for an approved Diploma level or above qualification to pay for their course fees.
Eligible students will be entitled for loans up to a capped amount of: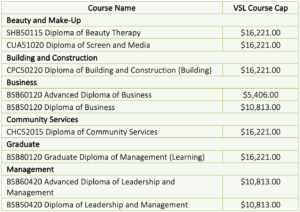 2. Providers may charge above this cap for a course, and if so, students will be expected to pay for the difference according to the provider's billing period.
There are specific criteria students must meet to be eligible for a loan through VET Student Loans. Students must have been assessed as academically suited to undertake the course and must be;
An Australian citizen; or
Hold a permanent humanitarian visa and usually reside in Australia; or
Be a qualifying New Zealand citizen
Please also note:
VET Student loans will not be approved for students who do not meet eligibility requirements
A VET Student loan gives rise to a VETSL debt that continues to be a debt due to the commonwealth until it is repaid.
For more information about VET Student Loans click here.
What's Next?
Contact YES College on 02 9635 0652 or email info@yescollege.com.au to book an enrolment meeting.
Course Schedule, Tuition Fees and Census Days for Approved Courses
Beauty and Make-Up
Diploma of Beauty Therapy (Full-time)
Diploma of Screen and Media (Specialist Make-up Services) (Full-time)
Building and Construction
Diploma of Building and Construction (Building)
Business
Advanced Diploma of Business
Diploma of Business
Community Services
Diploma of Community Services
Graduate Diploma
Graduate Diploma of Management (Learning)
Management
Advanced Diploma of Leadership and Management
Diploma of Leadership and Management