Course Code: CUA51015 
Course status: This course has been superseded by CUA51020 Diploma of Screen and Media. We are not taking any new enrolments into this course.
Who Should Study this Course?
This course is for people desiring to work as Make-up Artists in the entertainment, fashion, film, TV, theatre and beauty industries. Students of the course will learn the wonderful applications of make-up themes and looks of various decades. Techniques include facial hair, body painting, bald cap wigs, special effects, burns & wounds, casualty simulation, prosthetics, life casting, hairstyling for make-up looks, airbrushing make-up and much more. This course includes all the essentials along with many advanced make-up techniques covering the fundamental skills necessary to work with print adverts, high fashion, glamour and bridal make-up, fashion magazines, film, television, music videos, runway shows, theatre & special effects.
Where is the College located?
YES College's Campus is located at Suite 301, 106 Church Street, Parramatta, NSW 2150. The campus is situated opposite Westfield Parramatta and is 2 to 4 minutes' walk from Parramatta train station.
Career Opportunities
Academic Pathways
On completion of this qualification, graduates may undertake the CUA60615 Advanced Diploma of Screen and Media.
Employment Pathways
Graduates will also be eligible to seek employment working as a Make-Up Artist, Hair Stylist, Designer or Specialist Make-Up Effects Artist in the entertainment, fashion, film, TV, theatre and beauty industries.
Entry Requirements
For direct entry into this program, candidates must:
be a minimum of 17 years of age
And
provide a copy of a senior secondary certificate of education which has been awarded to the learner by an agency or authority for the student's completion of year 12
Or
provide evidence of successful completion of an Australian Qualifications Framework Certificate IV or higher (where the language of instruction is English)
Or
The learner is assessed as displaying competence at or above exit level 3 in the Australian Core Skills Framework (ACSF) in both reading and numeracy;
Award
This course is part of the CUA Creative Arts and Culture Training Package. Candidates that successfully complete this qualification will be issued with a Nationally Recognised:
CUA51015 Diploma of Screen and Media
Teaching Methods
The delivery mode is face to face institution based delivery at YES College's training premises and salon.
The face-to-face delivery includes individual and group activities, lectures, pair work, class presentations, and practical training in the College's practical rooms and YES College training salon.
Uniform
Students are required to wear smart attire and enclosed shoes at all times while attending the college.
Assessment Methods
Assessment methods used in this qualification include:
Demonstration
Assignment
Knowledge test
Projects
Presentations
Evidence of Treatment (EOT) portfolio's
External productions
Facilities and Equipment
Make-up studio -individual client workstation, make-up chairs, make-up lighting in each work station, professional make up products, tools and equipment, professional special effects products, tools and equipment, professional hair styling product range including hair styling tools and equipment.
Course Duration
This program is delivered over a period of 52 weeks (40 academic weeks + 12 weeks holiday).
Units of Competency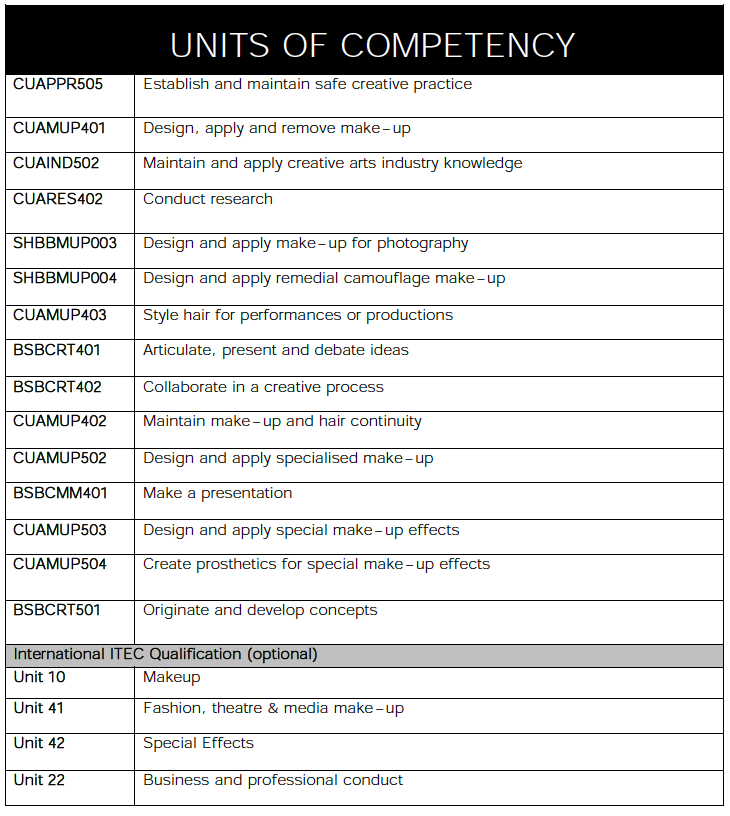 Class Timetables
The course is delivered over 20 hours per week. Face to face hours are offered over various shifts. Note that Timetables are subject to change at the discretion of YES College.
Enrolment Enquiries
YES College
Suite 301, 106 Church Street, Parramatta, NSW 2150
Phone: 02 9635 0652
Email: info@yescollege.com.au
Course Fees
Course fee: AUD $12,000
Extra Costs that are not included but are required for the course are as follows:
College uniform (Polo): $35
Black pants and black enclosed shoes: Purchase externally or BYO
Hair tongs/straightening irons: Purchase externally or BYO
Competency, Reassessment and Repeating Units of Competency
To successfully complete a unit of competency i.e. achieve a Competent result for the unit, you must achieve a Satisfactory Result for all assessment tasks for that unit. For each assessment task you will be provided with three opportunities to achieve a Satisfactory Result. Students unable to achieve competency after their third attempt can undertake re-assessment. Students unable to achieve competency after reassessment will be required to repeat the unit of competency in line with the College's Student Assessment, Reassessment and Repeating Units of Competency Guidelines policy.
Credit Transfer and Recognition of Prior Learning (RPL)
Have you worked or studied in this field before? RPL allows you the opportunity to be recognised for skills, experience and study that you may have already attained. To gain RPL you can contact the college for our RPL kit, which will guide you through the process of presenting your evidence. RPL will only be granted before the start of the course, or within the first two weeks of starting the course. See YES College's RPL Policy available at www.yescollege.com.au for more information.
YES College will fully recognise the AQF and VET Qualifications and Statements of Attainments issued by other Registered Training Organisations. Should you have completed another course with another provider and wish to claim credit into your course at YES College, you may do so by completing the College's Student Exemption Form. There is no additional fee for Credit Transfer. See YES College's Credit Transfer Policy available at www.yescollege.com.au for more information.
Student Support Services
YES College is committed to providing all students with quality student support services throughout their enrolment and adhering to the principles of access and equity for all its students.
Language, Literacy and Numeracy (LL&N) support will be provided in all subjects as part of the normal tuition and assessment activities and where additional LL&N support is needed will organise and charge the service on a fee-per-service basis.
Other support services that YES College provides include:
Admissions
Bank account assistance
Orientation
Timetabling
Education counselling (Course Progress, Attendance)
Welfare counselling
Career counselling
Internal English Language Support
External English language support*
Recognition of Prior Learning*
Internet access and Student Computer Lab
Extra-curricular activities*
Document Access
Tax file number assistance
Job finding and resume assistance
Complaints and Appeals
Student Deferment, Suspension and Cancellation
Certificate and Statement of Results (SOR) Issue
Certificate copies*
Transcript copies*
Re-enrolment*
* Indicates that fees are involved. Please contact us for further information.
Access and Equity
The College is committed to integrating Access and Equity principles within all the services provided to clients in accordance with the Sex Discrimination Act 1984, Human Rights and Equal Opportunity Act 1986, Racial Discrimination Act 5 1975, NSW Anti-Discrimination Act and Disability Discrimination Act 1992. All our staff members recognize the rights of learners/clients and provide information, advice and support consistent with our mission statement, code of ethics and code of practice.
The college recognizes the diverse background of our learners from all over the world. Regardless of cultural, linguistic, nationality, gender, sexuality, religion, disability or age all students have the right to study in an environment that is free of discrimination and harassment. All learners equally have the right to be treated in a fair and considerate manner while studying at the college.
If at any time students feel that in any way the college is not abiding by this Code of Practice they can report their complaints or grievance to their trainer, the Student Support Team or the Operations Manager.