Diploma of Human Resources Management
Course Code: BSB50615
Duration: 52 Weeks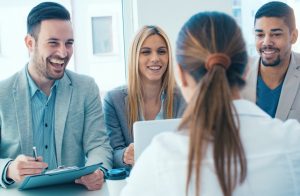 The Diploma of Human Resources Management is for people desiring to work in management positions within the human resources field in a broad range of industries. People in human resources management positions have a sound theoretical knowledge base in human resources management. Furthermore, they demonstrate a range of managerial skills to ensure human resources functions are effectively conducted within an organisation or business area. Typically, they would have responsibility for the work of others.
Students of this course will learn specialist human resources management skills such as managing human resources services, managing recruitment, selection and induction processes, managing workplace planning, managing employee relations and developing and managing performance-management processes. In addition, students will learn to implement and monitor WHS policies, procedures and programs to meet legislative requirements, manage risk, manage separation and termination, and manage remuneration and employee benefits.
The Diploma of Human Resources Management is most suited for individuals who are currently or are aspiring to be Human Resources Managers, Human Resources Advisers, or Human Resources Consultants in small, medium or large firms in the private sector.
To enrol, students must book an enrolment meeting and provide a copy of a Senior Secondary Certificate of Education for completion of year 12 OR supply evidence of a national Certificate IV qualification in any industry OR meet the reading and numeracy assessment provided by our college.
Enrolments open now.
Classes are subject to availability. Call or enquire today!