Certificate IV in Leadership and Management
Course Code: BSB42015
Duration: 52 Weeks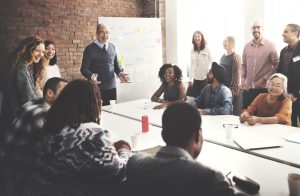 This business leadership course reflects the role of individuals desiring to work in frontline management and supervisory positions in a broad range of industries. People in these positions provide leadership, guidance and support to others, as well as assume responsibility for their own performance. They also have some responsibility for organizing and monitoring the output of their team, apply solutions to a defined range of problems and analyse and evaluate information from a variety of sources.
Students of this course will learn leadership and management competencies such as how to communicate effectively as a workplace leader, lead effective workplace relationships and lead team effectiveness, as well as how to implement operational plans, report on financial activity, promote innovation, implement continuous improvement and undertake project work. Students will also learn how to implement and monitor WHS policies, procedures and programs to meet legislative requirements, make presentations, coordinate implementation of customer service strategies and implement customer service standards.
The course is most suited for individuals who are currently or are aspiring to be Coordinators, Supervisors or Team Leaders in small, medium or large firms in the private sector.
Enrolments open now.
Classes are subject to availability. Call or enquire today!